Sandwich board
(Or: "Fuss Islands Retail Park".)
Months have passed since the beleaguered supermarket chain Morrisons did a capital wheeze, projecting a picture of a baguette between the wingtips of the Angel of the North. Interestingly, it wasn't the first time it'd had ideas about a tall structure in the north of England.
In 2007, work was underway to turn the site of an old refuse "destructor" into a retail park. One prominent relic of the site's previous use was to remain: a grade II listed octagonal chimney…
Naturally, such a development necessarily entails lots of planning applications – and, wonderfully, the poorly scanned evidence of this is available online. So we can read the planning application entitled "Display of externally illuminated individual letters to south face of chimney". It's not a classic of the form, there's no gloriously stiffly written literature to read (there often is), but there is a drawing.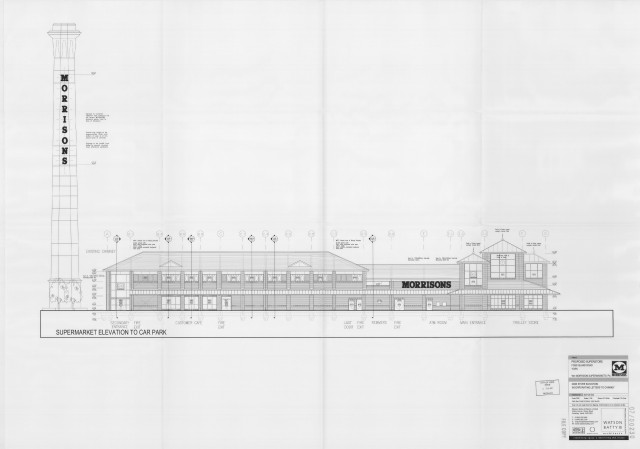 The status of the application is "application refused" and the sternly critical "delegated report" is available to read – a small sop to fans of that prose style.
I'm heartened that brave development control officers are there, ready to stop big corporates pissing on pieces of industrial heritage. A small part of me wonders what it would have looked like, but the local newpspaper has a mock-up.
Having a big chimney next to one's supermarket still comes with some advantages, a certain gravitas, whether or not one is permitted to strap a logo to it. "It's now known to many as 'Morrisons Chimney', perhaps giving the erroneous impression that the supermarket recently built alongside incorporates a very large fireplace." They could have projected a baguette onto it.
---
Also, a man flew an unmanned aerial vehicle around the chimney, and there's a video. The pictures are frankly a bit disappointingly lousy – shaky and pasty-faced – but for heaven's sake he flew a consumer-grade remote-controlled miniature aircraft, with a tiny video camera on it, in the sky. Isn't that impressive?